Developing markets through taking on challenges with innovation.
Together with taking on customers' management challenges, continuing to create new value in PET resins.
Management vision
Delivering new value from three perspectives, aiming to lead the industry into the next generation.
Identifying the changing times
Meeting customer needs
Improving the environment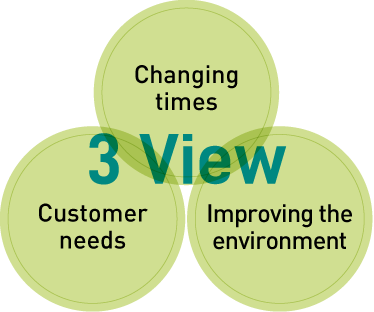 Message
In recent years, the chemical industry has faced dramatic changes to its business environment, including environmental, resource, and waste-related issues. What is more, the framework of international competition in the industry has been significantly transformed as well. Accordingly, we have built a business model based on two distinctive paradigm shifts in order to adapt to customers' increasingly diverse needs while collecting ever-changing information through management and business operations.
One of these involves building in functions to raw materials. Through progress on highly advanced purity, structural controls, and molding and processing while combining materials in optimal ways, we will give concrete form to products that deliver optimal functions within the series of processes from raw materials to completed products. As a result, we will realize high-value-added materials through building in functions based on creative technologies to transform them to even more advanced products.
Supplying materials with built-in functions. As used here, "built-in functions" refers to a business transformation from one based on raw materials supplied in limited variations by upstream manufacturers to one that supplies a diverse range of materials with high value added.
Based on the perspective of creative strategy to deliver optimal solutions to our customers, we are making progress every day on development of business models to deliver solutions in the form of raw materials and material solutions with built-in functions.
In addition, to continue being a trusted enterprise we are striving to contribute to a sustainable society through proactive efforts toward business development targeting social challenges, such as plastic bottle recycling and development of bioplastics, while also enhancing our abilities to adapt to society's increasingly diverse and advanced demands, through delivering diverse solutions suited to the trends of the times. Furthermore, while pursuing quality and environmental performance with a focus on safety and reliability above all, we aim to enhance our corporate governance functions as well. We would appreciate your continued guidance and support.
Eishi Morita,Chief Executive Officer

Company overview
Name

TSUKASA PETCO Corporation
Head office

KRC BLD.18 Nihon-ohdori, Naka-ku, Yokohama, 231-0021, JAPAN
Tel./fax

Tel.: +81-45-650-6825
Fax: +81-45-650-6826
Established

March 2006
Representative

Eishi Morita,Chief Executive Officer
Capital

10 million yen
Sales

16.2 billion yen
Employees

20
Location

〈Head Office〉
KRC BLD.18 Nihon-ohdori, Naka-ku, Yokohama 231-0021, Japan
Tel:+81-45-650-6825

〈Biotech (Green Ocean and Blue Planet Initiative) Div.〉
Kyoto Research Park, Western Area, Bldg#4, 3F
93 Chudoji Awata-cho, Shimogyo-ku, Kyoto 600-8815, Japan

〈Overseas Bases〉
Seoul, Taipei, Shanghai

〈Overseas Subsidiaries〉
TSUKASA PETCO SINGAPORE PTE.LTD.
6A Shenton Way, #04-01 OUE Downtown Gallery,
Singapore 068815

Main banks

Mizuho Bank, Yokohama Branch; Bank of Yokohama, Corporate Sales Division; 
Yokohama Shinkin Bank, Corporate Sales Division;
Sumitomo Mitsui Banking Corporation, Yokohama Branch; 
Resona Bank, Yokohama Branch; Shoko Chukin Bank, Yokohama Branch;
Kiraboshi Bank, Yokohama-Nishiguchi Branch; Higashi-Nippon Bank, Yokohama Branch; 
Awa Bank, Yokohama Branch; Japan Finance Corporation, Yokohama Branch
Main lines of business

Import, export, and domestic sales of compound-resin raw materials
Import, export, and domestic sales of compound-resin products
Import, export, and domestic sales of various chemical products
Main customers

Teijin Ltd., Toppan Inc., Otsuka Pharmaceutical Co., Ltd., Toyo Seikan Co., Ltd.,
Mitsubishi Chemical Corp., Sekisui Seikei Co., Ltd.,
Mitsui & Co. Plastics Ltd., Sika Group (Switzerland)
Main Suppliers

Nan Ya Plastics Corp., Formosa Chemicals & Fibre Corp.,
Lotte Chemical Corp., SK Chemicals Co., Ltd., Lg Chem Ltd.,
Teijin Ltd., Taiwan Hon Chuan Enterprise Co., Ltd , and others
Main affiliations

Yokohama Chamber of Commerce and Industry, Japan Israel Chamber of Commerce (JICC),
Japan Clean Ocean Material Alliance (CLOMA),
Friends Of Technion (Technion – Israel Institute of Technology),
Food Contact Materials Safety Center, Japan PET Tray Association, Japan BioPlastics Association (JBPA)
Access
By public transportation: JR Negishi Line: Nine minutes' walk from the South Exit of Kannai Station
Yokohama Municipal Subway Blue Line: Nine minutes' walk from Exit 1 of Kannai Station
Subway Minato Mirai Line: Two minutes' walk from Exit 3 of Nihon-odori Station
To the office: Get off the Minato Mirai Line at Nihon-odori Station
Exit from Exit 3 and go aboveground . . . Proceed to the right along the main street
. . . Turn right at the first traffic signal (Osanbashi Iriguchi)
. . . Proceed along the street, crossing one street
. . . The office is in the building you see in front of you
(the building with the Patagonia outdoors wear shop on the first floor)