Solution & Creation
〜Why choose TSUKASA PETCO?〜
We offer the expertise and networks to deliver solutions to issues
in customers' product-development processes, as a trading company specializing in PET resins.
Our stance calls for us to be a trading company that is more like a manufacturer in the way we take responsibility for all aspects through cooperative development of materials and unique differentiated products, instead of just procuring raw materials and products alone.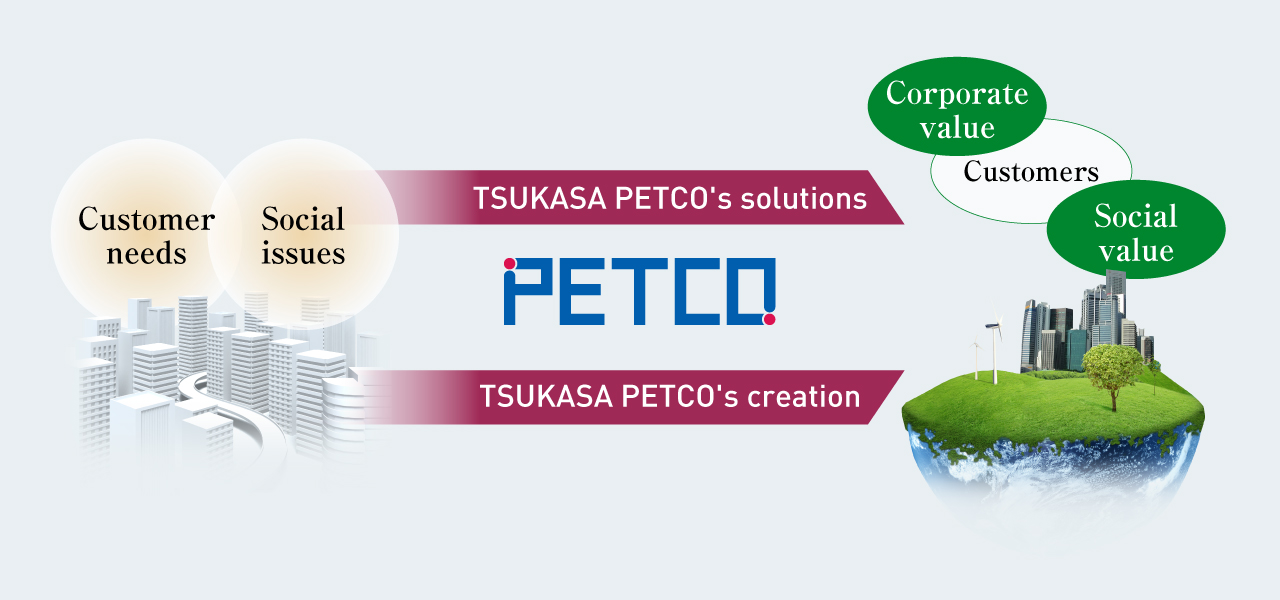 About TSUKASA PETCO
TSUKASA PETCO has a track record delivering solutions to a wide range of challenges
as a professional in PET resins.
We offer future-oriented solutions based on ascertaining corporate clients' needs.
Product development capabilities

The chemical industry continues to move forward powerfully to address new challenges, through unceasing technological innovation. We generate new products with high levels of value added by putting to maximum use our strengths based on the diverse experiences and expertise we have built up through now and demonstrating synergies to address corporate customers' challenges.
Solutions capabilities

Today, it is becoming increasingly difficult to remain the choice of customers simply through providing existing services alone. The ability to review objectively the issues customers face and identify their essential challenges is vital to providing optimal services.
Stable supply networks

Our business network spans not only Japan but around the world, including Asia, America, Europe, the Middle East, and Oceania, with operation centers in Seoul, Taipei, and Shanghai. Through our proprietary stock and delivery system, we have established a stable, highly flexible service structure through which we advance optimal solutions based on working closely with diverse customers to meet their needs.
Our business
We propose optimal raw materials and products
to address the challenges faced by customers and society.